The Rise of Influencer Boxing: For Money Makes or Mavericks?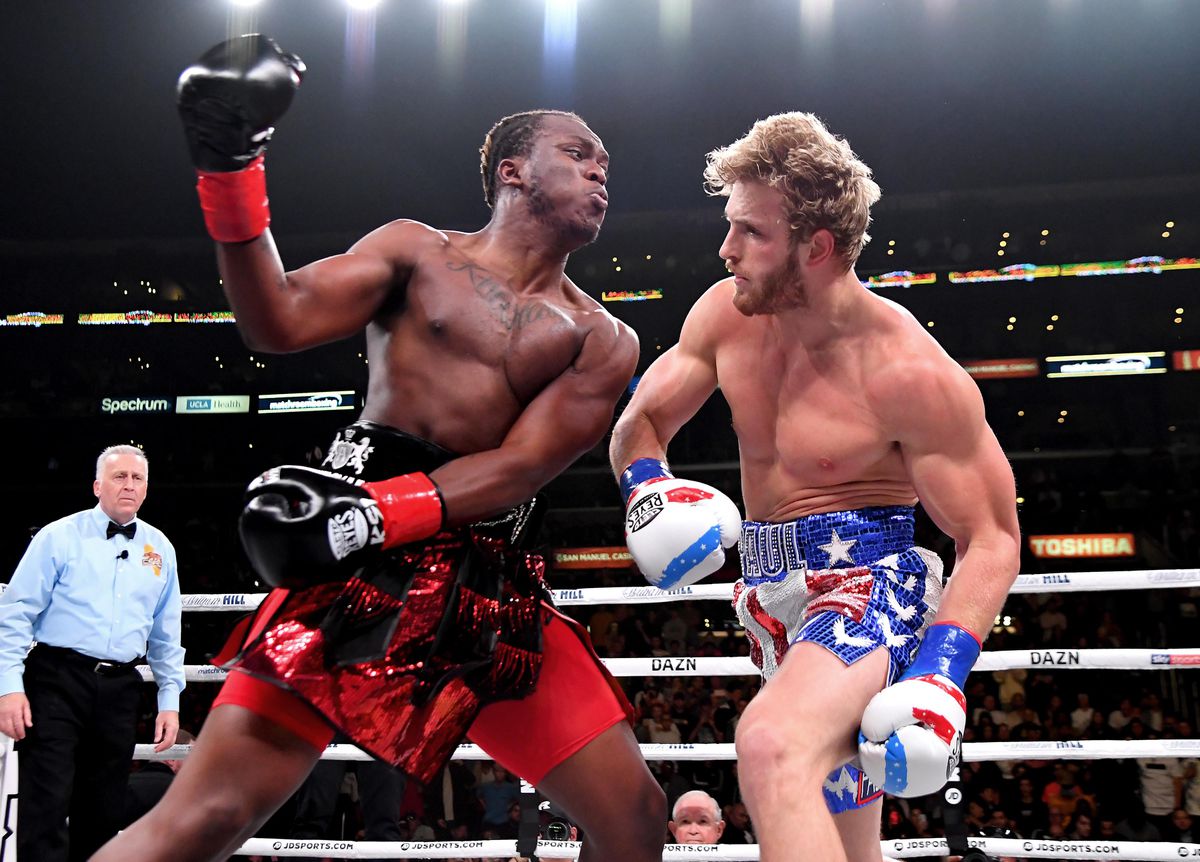 Over the years, boxing has attracted its fair share of oddballs and upstarts who subvert expectations by getting involved in the fight game.
From Eric 'Butterbean' Esch to former heavyweight champion George Foreman fighting five men in one night, the sport is no stranger to the bombastic. We take a look at the rise of influencer boxing and ask, is it for money makers, or mavericks?
Now, social media influencers are trying their hand at the sweet science, with an entire card taking place this weekend (June 12) on streaming platform LiveXLive billed as 'TikTokers vs YouTubers.' On the show, TikTok personality Bryce Hall will face former NCAA basketball athlete and YouTuber Austin McBroom, among other exhibition bouts, including UK YouTubers AnEsonGib and KSI's brother Deji Olatunji.
That card will take place in America, but this recent trend of social media stars entering the boxing ring can most likely be traced back to the UK when YouTubers KSI and Logan Paul first met in an amateur bout in 2018. Streamed on pay-per-view on YouTube, the event proved to be an enormous success and, suddenly, influencer boxing became a thing.
The pair met in a lucrative rematch a year later, with both making their professional boxing debuts. This contest had more legitimacy as it was sanctioned with official boxing rules and was picked up by major broadcasters like DAZN and Sky Sports.
Now, of course, Logan and his brother Jake are causing a stir in the boxing world. The former recently fought former pound-for-pound great Floyd Mayweather while the latter is boxing a string of retired UFC fighters.
Interestingly the fight ended in a draw with many people labelling that as a victory for the YouTuber and an embarrassing result for the World Champion fighter. That being said, Floyd has confronted any criticism, downplaying the fight as being "great fun" and as always, living up to his name and focusing on the money "Your kids can't eat legacy" when you see the breakdown of that money, it does seem a no brainer…
Floyd Mayweather: $10 million guaranteed, 50% of PPV sales, estimated $50m – $100+m earnings
Logan Paul: $250K guaranteed, 10% of PPV sales, estimated $10m – $20m earnings
What does the rise of influencer boxing mean for the sport?
While boxing's more loyal fanbase have turned their noses up at the rise of influencers' involvement in the sport, the partnership makes a lot of business sense. These stars already have large and established followings on social media, meaning they can generate a lot of interest in any bouts they may have, thus making more money not only for themselves but also the organisers of these events. The demand to see these fights is high, and as Floyd made clear after his fight, "If you don't want to see me doing exhibitions, don't watch".
What's more is that these influencers are also adding to their brand awareness by putting themselves in front of more diverse and larger audiences who might not be as active on social media platforms.
The concern is that boxing can be a dangerous sport, particularly for those with little experience. Top fighters like Saul 'Canelo' Alvarez, Anthony Joshua and, indeed, Mayweather have spent most of if not all their lives dedicating themselves to the sport, training day-in-day-out. Most professional fighters will have also had extensive amateur boxing careers where they learnt their craft and honed their skills.
These influencers, however, are dipping their toes into the waters of boxing, rather than going for a full swim. Facing each other should not come with too many risks, as their skill and experience levels will be relatively similar. The trouble starts when they begin to face legitimate fighters who know what they're doing.
What's next for influencers in the boxing world?
It seems as though, for now, influencer boxing is here to stay. As long as fans keep tuning in and paying to watch these shows, they will keep happening and, so long as it remains its own entity outside of professional boxing, there's really no harm in that.
Looking to kick off a new influencer campaign? Get in touch today!